Directory
About YellowstoneKids.com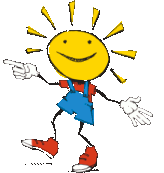 One thing that amazes me about National Parks out west is their sheer size. When I think "park," I think of the park of my childhood, which I could walk across in under five minutes. Or maybe a national forest, which was significantly larger, but still manageable. Not Yellowstone, or many of these other western monstrosities. Nope, it's not unusual to drive into one of these parks, only to learn that you'll be driving another 20 miles or so before even reaching the visitor's center.
Yellowstone is a great example of a huge-with-a-capital-h park. It's 63 miles north to south and 54 miles east to west. While 96% of it is within northwestern Wyoming, there are also parts of it in Montana and Idaho.
We quickly learned that any time there was a traffic backup or cars stopped along the road, it was likely because of an animal sighting.
The first and most famous attraction at Yellowstone is, of course, Old Faithful. It erupts about every 90 minutes, and is called the most predictable geographical feature on earth. We learned that, over the years, the interval between eruptions has been gradually increasing. We reached the viewing spot about 10 minutes before the next predicted eruption and snacked on granola under some trees. The viewing area is quite large, which was a good thing because there were lots of people waiting. Old Faithful shoots water over 100 feet into the air, and she erupts for about 1.5-5 minutes. It really was fun to watch, since it's something you hear about so often.
Then it was off to drive to the next stops on the map — in this area, that meant more geysers. Again, it struck me how many of these geyers were pretty much as amazing as Old Faithful, yet most of them had far fewer tourists.
Written by Susan Braun
Girls in White Dresses